Hey guys!
Well the time has finally come… we are on our way to Nashville, TN.  This is not quite the final move (waiting on house to sell), but we will be officially living in Nashville this week.  Thankfully we will be staying at my dad's house until we find a new house so we won't have to move our things twice.  He is REALLY excited to have 4 new roommates (us and our pups). 😉
As we get ready for a new adventure in Nashville with a new home, new careers, new friends and a place to explore, I can't help but get a little emotional thinking about our time in Dallas.  It was a very quick two years in Texas.  A lot has happened in the past two years.  We found out we were moving to Dallas a month after we got engaged.  We were excited, but very nervous moving while planning a wedding and starting new jobs.  A year later, we were married and life returned to normal in Dallas.  We had a lot of great times and a lot of very very trying times over the last two years, but those times have helped us get to where we are today.
There are SO many things I will miss about Dallas and our time here so today I wanted to share some of those with you!
My sister and her boyfriend.  These two made our time in Dallas so special.  We had so many puppy dates, dinner outings, boating days, and a whole lot of fun.  
2. Flexible work schedules.  While in Dallas, just worked part time as a Wellness Coach and my husband's job allowed him to work from home when he wasn't traveling.  This meant we got to see each other a lot, have lunch dates together, and be with our pups often.  
3. Ability to travel frequently.  With no kids, flexible work schedules, the southwest companion pass, and  amazing flights around the world (Dallas is such a great place to be for easy travel), we were able to travel a LOT.  My husband and I share a passion for traveling and seeing new places and our time in Dallas allowed us to take advantage of this passion.  
4. The WEATHER.  Have I mentioned the weather in Dallas on here before?  It is amazing.  I would be happy never seeing snow again in my life… unless I am skiing.  The summers sure are hot here, but I'd take that any day over cold winters.
5. Our boat and the lake.  We were fortunate enough to be able to buy a boat soon after we arrived in Dallas and it was probably our best purchase yet.  The only reason we bought a boat was because of the 20 minute commute to the lake (Ray Hubbard) we kept it at.  This meant we were able to get a lot of use out of our boat including week night rides.
6. Our neighbors.  Good neighbors are hard to find and we are lucky that quite a few of ours became our friends.  
7. Our home in Dallas was my favorite one yet.  We lived among other young professionals who all were at the same stage of life as us.  It had a LOT of stairs (4 stories to be exact), but hey, my butt looks better for it. 😉 Our rooftop deck didn't hurt either. 🙂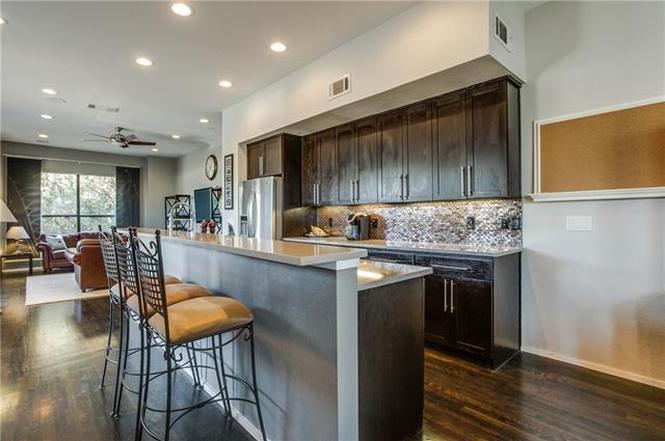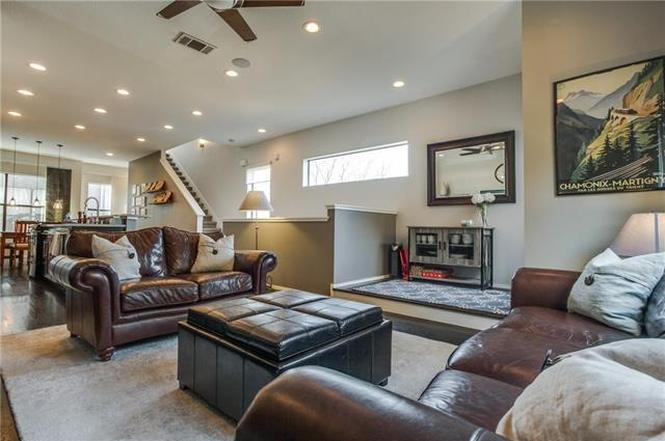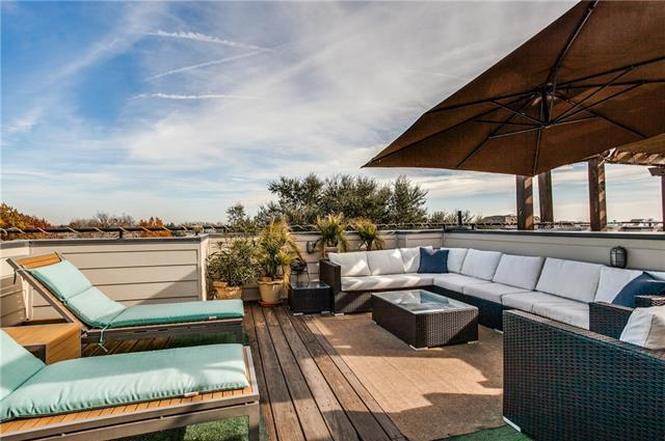 8. Our neighborhood.  Our house has a walkability score of more than 90.  If you aren't familiar with that term, it means that you can walk to almost anything.  We walked to Trader Joes, a few coffee shops, our favorite restaurants and bars, the vet, the convenient store, the list goes on and on.
9. Our normal walking path.  We walk the dogs almost every day (especially in Dallas with the nice weather).  We walk to get coffee/breakfast on the weekend mornings.  We walk to get happy hour on pretty summer nights.  I sure will miss our walks in Dallas.
10. Speaking of the dogs, Dallas is extremely dog friendly.  There are patios at almost every restaurant and bar around here and tons of dog parks too.  Have you guys heard of Mutts?  It is a dog park that serves food and drinks for people while the dogs run around.  Isn't that such a great concept?
11. We have made our rounds to the parks in town and while there are a few great ones, White Rock Lake definitely tops my list.  It has a beautiful running path, a huge dog park (the dogs can get in the lake too), and lots of sail boats drifting by.
12. When someone asks how we like Dallas, one thing I always point out is the amount of activities, festivals, concerts, and things going on ALL THE TIME.  There never is a dull moment here.  This may not be new to you, but moving from Cincinnati where there wasn't much going on, this was a huge difference to me.  There are a lot of unique little areas of the city that have their own style (Bishops Art District, Deep Ellum, Lower Greenville, Uptown, Highland Park, etc.).
13. The fun activities I will miss in Dallas include: Top Golf, Studio Movie Grill, Billy Bob's, Bowl & Barrel, the Arboretum and Stars Games. 
14. The food!  While I do love Mexican (Fernandos is my favorite), there are a lot of restaurants in Dallas that I will miss.  These include: HG Supply Co, Bistro 31, R&D Kitchen, Thai Thai, BBbop, Sushi Axiom, Meso Maya, Origin, Eureka, Cedar Grove.  My husband would probably pick Tacos Y Mas (after Thai Thai, our favorite takeout food), which is a little taco stand within walking distance from our house.
15. I sure will miss the charm of Dallas.  It is so full of character.  The people are friendly.  The drivers are horrible.  The door is always open.  Dallas takes a LOT of pride in the community by supporting local shops (lots of local coffee shops and local breweries), which is really important to me.
16. St. Paddys Day in Dallas.  There is a huge parade and parties all day long in our neighborhood.   They shut down the main street for the day and there are people everywhere!  It is really fun!  Our first year here, my sister's client invited us to be on a float in the parade! 
We are so sad to see our time in Dallas come to an end, but are ready for our next adventure in Nashville!  We will definitely be back to visit soon!  See you soon from Nashville! 
Questions:
Favorite city you have lived in?
Favorite part about where you live now?
If you could move anywhere, where would you choose?